Leadership Transition
Artistic Director John Dias announces his final season with Two River
A Note from Artistic Director John Dias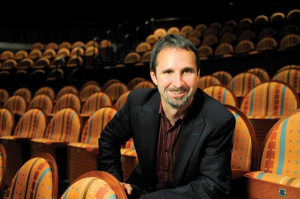 It has been an honor and a great joy to lead this organization, along with Michael Hurst, for the past 11 years. I have finished each day's work grateful and convinced that I am the luckiest man in the American theater.
At the heart of Two River is an ambitious dream of its visionary founders, Joan and Bob Rechnitz: that this beautiful building in Red Bank, New Jersey shine as a beacon to all the hungry souls and weary travelers seeking a haven as powerful as any religion; that theater artists best tell the messy and beautiful truth of who we are; and that only in true communion with our neighbors can we see ourselves beyond our blind spots and endeavor to affect profound change.
I have said from the beginning of my tenure at Two River that—from my point of view—artistic directors have a cycle lasting roughly 10 years; that one should have a vision that can be accomplished in that cycle; that one must keep the theater urgent and forward-looking; and that there is a natural rhythm and a lifespan to this work. Then, it is time to move on. So, in June of 2022 I will be stepping down and handing off to the next, yet to be determined, luckiest person in the American theater.
Whatever spiritual wisdom I think I have accumulated comes to me from the gospels of the world's great playwrights. Among the most meaningful to me, as a man of the theater, is Lorraine Hansberry's statement from her 1964 play The Sign in Sidney Brustein's Window which I take to be an expression of herself as a theater artist. She wrote: "I am a fool who believes that death is waste and love is sweet and that the earth turns and men change every day and that rivers run and that people wanna be better than they are." It is in the theater, I believe, that we humans have the best chance of actually being that marvelously foolish.
I want to express my deep gratitude to all the people I've had the honor of working beside. The board of directors and its two leaders, Todd Herman and Ed McKenna, have never flagged in their devotion to this place. They, along with a loyal and adventurous audience, and an unusually generous and steadfast set of funders have all supported and challenged me and made me a better producer.
The many extraordinary artists who have ventured this way, write us plays and tread our boards—they are the heartbeat and the lifeblood. May they forever call this place "home."
I have long said that the incredible team of producers, artisans, and administrators who make up the staff of Two River have no equal in the American theater. It is true. And the thought of being off that team causes me the greatest heartbreak.
My thirty year working relationship with Michael Hurst is somewhat unusual for any profession. In the theater, it is rare and, perhaps, singular. Although it's among the greatest partnerships in my life, its success has little to do with me. It is rare because Michael is rare. I love him and I am forever grateful. Shakespeare said this one best— when Hamlet, thinking of his father states: "I shall not look upon his like again."
And lastly and most simply, I say from my heart: THANK YOU to Joan Heilbrunn Rechnitz and Robert Rechnitz, you godly creators.
A Note from Board President Edward McKenna
Over the last 11 years John has brought his passion and care for theater to the community and we are all better for it. I have watched with great pride as John and his amazing staff built on the legacy of Bob & Joan Rechnitz by bringing a national spotlight to this remarkable theater. John's support of artists, diversity & inclusion and education has been inspiring. The Two River Board is truly grateful for his leadership and we look forward to continuing John's work and Two River Theater being a vital home for artists, students, staff, audiences and the community.
A Note from Managing Director Michael Hurst
My time working with John over the past 10 years has been the most rewarding of my career. I am so grateful for his partnership, and friendship, particularly during the incredibly challenging past year. John arrived at Two River with a plan to bring world class theater artists to Red Bank, create a robust new work development program, and build a more inclusive community around this jewel of a theater. John, along with a remarkable staff, achieved that and more.
John Dias' Artistic Achievements
Since 2010, Artistic Director John Dias, in partnership with Managing Director Michael Hurst, has helped transform Two River Theater into one of the nation's preeminent regional theaters. In 2019, Two River was nationally recognized by USA TODAY as one of "10 great places to see a play" across the U.S. During John's tenure the theater increased its production in annual seasons of classics and new work on two stages: the 349-seat Joan and Robert Rechnitz Theater and the 110-seat black box Marion Huber Theater. As a result of this growth, Two River now serves 55,000 people annually through productions, education programs and arts and humanities community events. The diversity of representation through the art and artists on its stages has made Two River a theater that rightly reflects the fullness and vitality of its surrounding community.
Dias launched Two River's first literary department and created a robust commissioning and new work development program. Since his arrival, the theater has produced twenty world premieres, ten of them commissions (including Hurricane Diane by Playwright-in-Residence Madeleine George, which enjoyed an Obie Award-winning Off-Broadway run, and Be More Chill by Joe Iconis and Joe Tracz, the theater's first Broadway and London West End production) and developed numerous other plays and musicals. He is the co-author and was the director of Two River's musical The Ballad of Little Jo, which he wrote with composer Mike Reid and lyricist Sarah Schlesinger.
He has spearheaded annual initiatives to nurture artists and bring their work to Red Bank to delight our audiences, including: the Crossing Borders (Cruzando Fronteras) summer festival of new plays and music by Latinx artists; a musical theater cabaret in partnership with New York University's Graduate Musical Theatre Writing program; a week-long retreat for playwrights from the New York-based company Clubbed Thumb; and the Emerging Playwrights Group and reading series.
Under Dias and Hurst's leadership, Two River has significantly increased both earned and contributed income from new sources; increased diversity within the institution in collaboration with TCG's "Equity, Diversity and Inclusion" cohort; developed numerous arts-education initiatives for young people including A Little Shakespeare, an annual production of one of Shakespeare's plays performed by high-school students; and designed and completed a significant building expansion on the theater's campus.
What's Ahead
The Two River Theater expects to launch a search for its next Artistic Director in the fall of 2021.  Over the course of the summer and early fall, Two River will identify a search firm and a timeline.  Part of the planning process will be ensuring the search for a new Artistic Director aligns with Two River's core values of Artistic Excellence and Equity, Diversity and Inclusion.