What is your favorite part of your job?
The people! Everyone from our loyal donors and patrons, our fantastic and supportive staff, our leaders Michael Hurst and John Dias, our amazing artists, and our community partners and local businesses. Our people are kind and helpful and talented. Along with my own family of course, my Two River family have gotten me some of the darkest days I've had since COVID-19 hit. I miss them so much, but am happy that my job lends itself to checking in with them regularly.
Why is Two River Theater special to you?
I grew up in Spring Lake and graduated from Red Bank Regional as a drama major. I continued to study theater as a performer and director. Theater has always been what I wanted to do with my life – no matter in what capacity. (I even married an actor!) To have a professional, regional theater like Two River right here in the community in which I was raised is a dream come true. I don't have to work and commute to New York City to work at a theater that is a world class arts institution. The work that we do is stunning and important—we are very fortunate to have Two River right in our back yard.
What was your favorite production to work on and why?
My favorite production that I have seen and been a part of here is August Wilson's RADIO GOLF. Brandon is an impressive artist and so generous. He invited several donors into his sacred space to observe a technical rehearsal of the play leading up to its first preview. He took the time to chat with our donors and explain his process. The play was phenomenal and the cast and creative team working on it were top notch. I was happy to be even a small part of this production and helping to raise the necessary funds to mount it.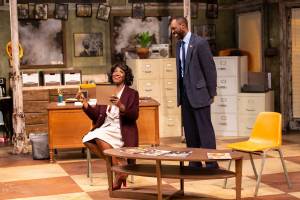 If you could go back and work on a production before your time at Two River, what would it be?
BE MORE CHILL. It is such a pivotal production for Two River and for the artists. I wish I could understand what it was like to be a part of that!
What's your favorite Red Bank restaurant and menu item?
Pazzo—the prosciutto panini. Always good.
What's your favorite thing to do/hobby outside of work?
Cook dinner, art projects with my daughter, reading, listening to podcasts, yoga
Tell us a fun fact about yourself.
I earned my MFA in Directing from the Actor's Studio Drama School when it was at The New School in NYC. You can see me in the audience for the "Inside the Actor's Studio with James Lipton" episode of "The Simpsons." I think the Martin Scorsese one too.