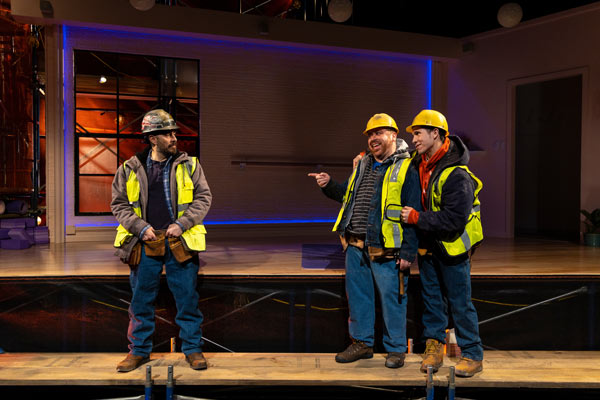 (RED BANK, NJ) — Two River Theater is presenting the world premiere of The Hombres by playwright Tony Meneses now through April 10. Directed by Annie Tippe, this is a play that looks at the complexity, diversity and intimacy of male friendship through the lens of machismo culture, The Hombres was co-commissioned by Two River Theater and the NJPAC Stage Exchange, a program of the New Jersey Performing Arts Center and New Jersey Theatre Alliance. The cast includes Victor Cruz (Pedro), Noah Gaynor (Miles), Eddie Gutierrez (Julián), Gerardo Rodriguez (Héctor) and Jon Rua (Beto).
This new play by Tony Meneses is a fresh and nuanced look at the complexity and intimacy of male friendship. Set in New Jersey ("somewhere off the NJ Transit line"), the play follows Julián, a gay Latino yoga teacher, as he clashes with the straight and macho Latino construction workers outside his studio—particularly the older head of the crew, Héctor, who seeks from Julián something he never expected.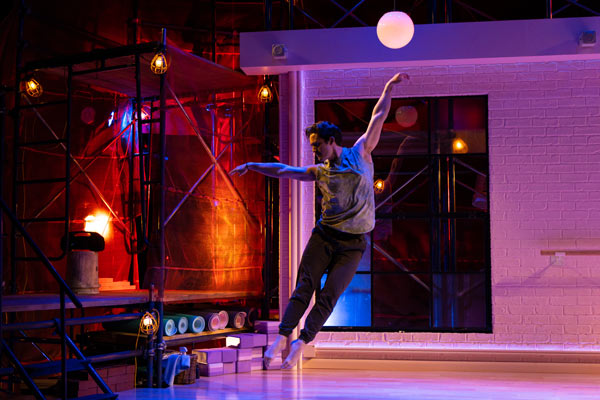 Says Artistic Director John Dias, "I love how brave and vulnerable Tony Meneses always manages to be about the common fears and desperate desires in our quest for human connection. In this play, it's the mask of machismo and the real and frightening danger of being found out that keep these men from the honesty and intimacy they crave."
Tony Meneses is the author of The Women of Padilla and Guadalupe in the Guest Room, both of which had their world premieres at Two River. His thriller twenty50recently had its world premiere at the Denver Center for the Performing Arts.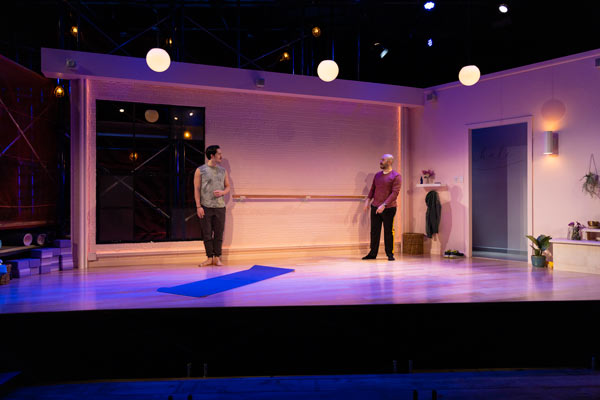 Single tickets are on sale at tworivertheater.org or 732.345.1400. Prices range from $50 to $70, with discounts available for groups, seniors, and U.S. military personnel, their families, and veterans. A limited number of $25 tickets are available for every performance; $25 tickets may be partial view. Tickets for patrons under 30 are $25 and include the best available seats at every performance.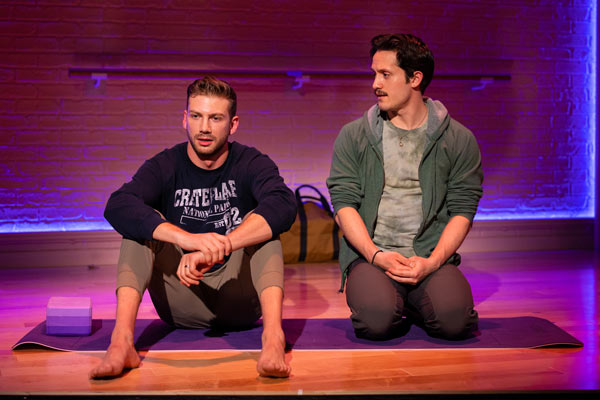 Two River Theater is located at 21 Bridge Avenue in Red Bank, New Jersey. Two River Theater produces a theatrical season that includes American and world classics, new plays and musicals, programs for young people, and festivals of new work. Each year, we also offer 40+ events that reflect our diverse community of Red Bank, New Jersey. Two River produces work on two stages—the 350-seat Rechnitz Theater, and the flexible 110-seat Marion Huber Theater. The theater's recently opened Center for New Work, Education and Design is a three-story facility that includes two rehearsal studios, artist labs, classrooms, expanded shops and centrally located offices.
Two River Theater has commissioned and premiered original projects including Be More Chill by Tony Award nominee Joe Iconis and Joe Tracz (the theater's first Broadway production) and Hurricane Diane by Playwright-in-Residence Madeleine George (which won an Obie Award for its Off-Broadway run). In June 2019, Two River was nationally recognized by USA TODAY as one of "10 great places to see a play" across the U.S. Two River serves thousands of students and community members through arts and humanities programs at the theater, in schools and throughout its region. Two River Theater is led by Artistic Director John Dias and Managing Director Michael Hurst.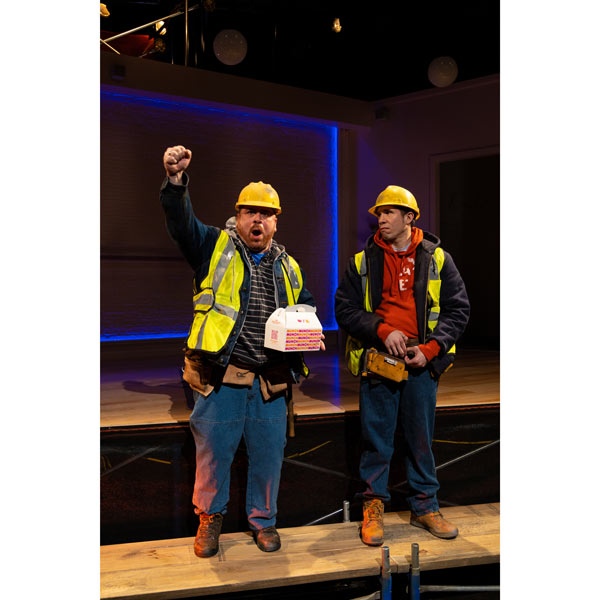 All Photos by T. Charles Erickson