(RED BANK, NJ) — A World Premiere modern verse translation of Shakespeare's ode to young love hits the stage at Two River Theater from April 8 – April 30, 2023. Romeo and Juliet, the classic tale of star-crossed love, is infused with contemporary vitality by playwright Hansol Jung (Wolf Play, Wild Goose Dreams, Cardboard Piano). Seen in 2020 as part of Two River Theater's Two River Rising online reading series, this Romeo and Juliet was originally commissioned by the Oregon Shakespeare Festival's Play On! Project and will be presented at Two River in partnership with the National Asian American Theatre Company (NAATCO).
Romeo and Juliet will feature an all Asian American cast and will be co-directed by Hansol Jung and Dustin Wills (Wolf Play, Cymbeline, Frontières Sans Frontiéres) with original music by Brian Quijada (Undesirables, Dragon Baby, Where Did We Sit on the Bus?). For the first time in the Joan and Robert Rechnitz Theater, the production will be staged in the round, with audience seated on stage and on all sides of the playing area.
"It is thrilling to welcome you to a brand-new Verona," says Artistic Director Justin Waldman.  "This blend of Shakespeare's greatest love story with propulsive verse from the pen of one of America's most formidable playwrights in Hansol Jung will make you see, hear, and feel this timeless epic in a whole new light.  Jung, along with visionary co-director Dustin Wills, have transformed the Rechnitz Stage into an immersive theatre-in-the-round where you will be up close to the magnetic poetry, thumping music, and electric passion of this iconic play.  TRT is proud to partner with the National Asian American Theatre Company in premiering this highly representative production to the community of Red Bank."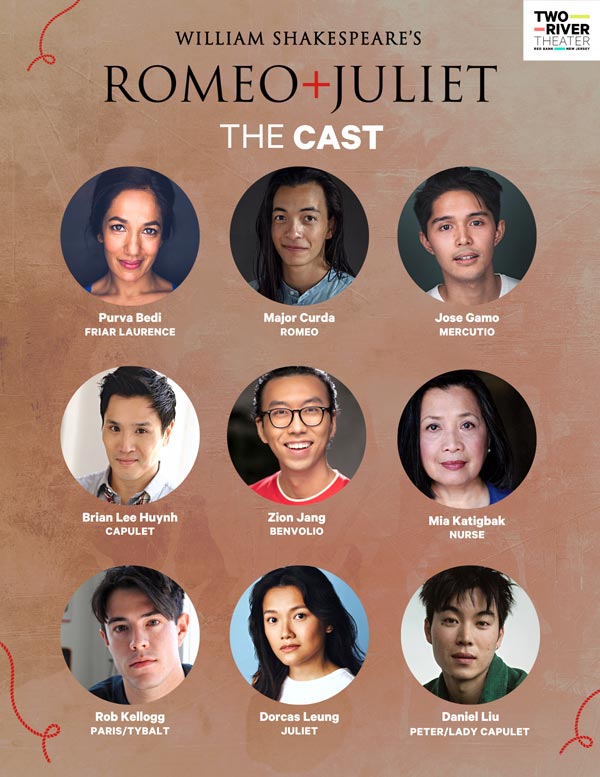 "With this modern verse translation by Hansol Jung of Shakespeare's Romeo and Juliet, we continue our work partnering with other theatre companies in the country, and we are delighted and heartened that Two River Theater is presenting this adaptation with an all Asian American cast," said NAATCO co-founder and Actor-Manager Mia Katigbak. "We are proud to add Two River Theater to the group of theaters with whom we have established relationships, including the Public Theater and Transport Group.  It is also such an immense pleasure for me to return to the Two River stage, after having performed here in I Remember Mama, and to enjoy TRT's incomparable hospitality and generosity, and the total support of absolutely everyone here!"
The full cast includes: Purva Bedi as Friar Laurence, Major Curda as Romeo, Jose Gamo as Mercutio, Brian Lee Huynh as Capulet, Zion Jang as Benvolio, Mia Katigbak as the Nurse, Rob Kellogg as Paris/Tybalt, Dorcas Leung as Juliet, and Daniel Liu as Peter/Lady Capulet, with the full company appearing as ensemble.
The creative team includes Playwright William Shakespeare, Translator / Co-Director Hansol Jung, Co-DirectorDustin Wills, Composer Brian Quijada, Music Director Nygel D. Robinson, , Scenic Designer Junghyun Georgia Lee, Costume Designer Mariko Ohigashi, Lighting Designer Joey Moro, Sound Designer Megumi Katayama, Fight/Intimacy Directors Rick and Christian Sordelet, Dramaturg Aaron Malkin, Stage ManagerHannah Woodward, Assistant Stage Manager Kathleen Rose Gallardo, with casting by Andrea Zee.
Immediately following the closing in Red Bank, NAATCO, in partnership with Two River Theater, will present the production off-Broadway in New York City at the Classic Stage Company. Performances will run May 9th – June 3rd, with opening night on May 14th. The CSC Theater is located at 136 East 13th Street. More information can be found at www.naatco.org.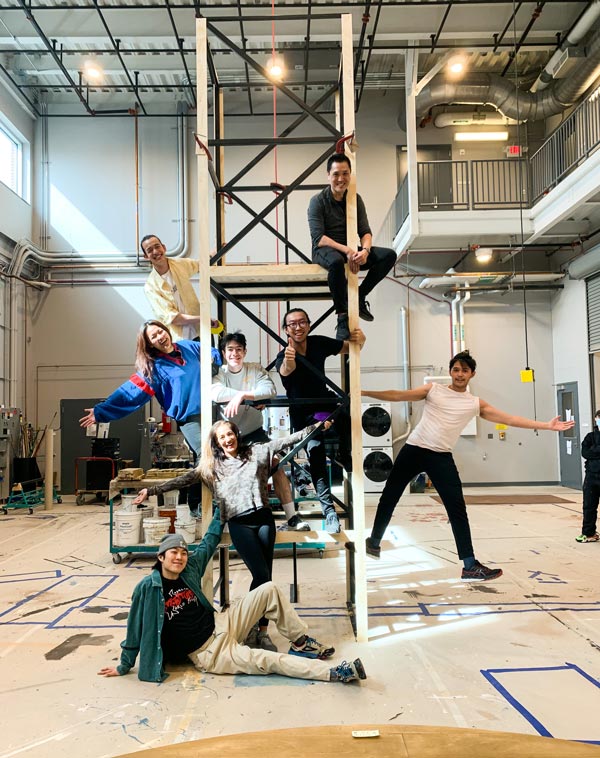 Photo by Mac Allen
Under the leadership of Mia Katigbak and Richard Eng, NAATCO (National Asian American Theatre Co., Inc.), a New York City-based, award-winning company, was founded in 1989 to assert the presence and significance of Asian American theatre in the United States, demonstrating its vital contributions to the fabric of American culture. NAATCO puts into service its total commitment to Asian American theatre practitioners to more accurately represent the multi- and intercultural dynamics of our society. By doing so, they demonstrate a rich tapestry of cultural difference bound by the American experience. Currently led by Mia Katigbak (Actor-Manager and Co-Founder) and Peter Kim (Creative Producer), NAATCO is the recipient of the Obies' Ross Wetzsteon Award, the Lucille Lortel Award from the League of Professional Theatre Women, and the Rosetta LeNoire Award from Actors' Equity Association in recognition of its contribution toward increasing diversity and non-traditional casting in American theatre. NAATCO's acclaimed production of Henry VI: Shakespeare's Trilogy in Two Parts received Actors Equity's St. Clair Bayfield Award, and was nominated for a Drama Desk Award for Outstanding Revival of a Play, as well as Outstanding Costume Design for a Play. Their production of Clifford Odets' Awake and Sing! received an Obie Award for Performance and was nominated for a Drama League Award for Outstanding Revival of a Play. A Play on War, an adaptation of Mother Courage, received a Drama Desk nomination for Best Music in a Play.
Play On! Shakespeare is a non-profit company promoting and creating contemporary modern translations of Shakespeare's plays. Play On! partners with artists and organizations across the globe to deliver and advocate for these translations through different channels, including theatrical productions, podcasts, publications, and film. For more information, visit playonshakespeare.org. Play On! Shakespeare is made possible through generous support of the Hitz Foundation.
Single tickets are on sale at tworivertheater.org or 732.345.1400. Prices range from $40 to $70, with discounts available for groups, seniors, and U.S. military personnel, their families, and veterans.
For the first time in its history, Two River Theater will be staging this production in the round in the Joan and Robert Rechnitz Theater. Onstage seating is available for $30 for all performances! Tickets for patrons under 35 are $25 and include the best available seats at every performance, including the onstage seating area.
Two-play subscription packages are available now! Subscribers pay only $75 for two shows on weeknights and $99 for weekend performances. Book by phone or online at www.tworivertheater.org.
Plays, artists, dates, and ticket prices are subject to change.
AUDIENCE EXTRAS & ACCESSIBILITY 
Join them on Wednesday, April 12th at 5:45pm for their "In the Know" discussion series with Artistic Director Justin Waldman. The hour-long event in the Library includes a Q&A with members of the Romeo and Juliet creative team, led by Waldman. Light refreshments will be served.
The performance on Saturday, April 29th at 3:00pm will have both open-caption and audio description available. Tickets are available at a discounted rate of $25 for patrons using these services. To reserve wheelchair-accessible seating or tickets to a performance listed above, patrons should call 732.345.1400 or e-mail boxoffice@trtc.org. The performance on Saturday, April 15th at 3:00pm will be a "Fragrance-Free" performance, for which they ask patrons to attend the theater "fragrance free" to help those afflicted with allergies to scents.
For more information about Two River's full access services, visit tworivertheater.org/accessibility.
Effective September 9, 2022, proof of vaccination is not required to attend a performance or event at Two River Theater. Currently, face masks are recommended, but no longer required, while inside the theater building.
Two River Theater will follow any forthcoming state mandates related to Covid-19. All policies are subject to change, allowing us to best prioritize the safety of our audience members, artists, staff and community.
Should we make a change to these procedures for any performance or event, all patrons will be contacted promptly by the box office and via email.
Two River Theater's 2022/23 Season Sponsor is Hackensack Meridian Health/Riverview Medical Center. Production Sponsors are the Visiting Nurse Association of New Jersey and Play On! Shakespeare.
Two River Theater is supported in part by public support through the New Jersey State Council on the Arts, a Partner Agency of the National Endowment for the Arts. Private support includes Bank of America, The Geraldine R. Dodge Foundation, Doris Duke Charitable Foundation, Helen Clay Frick Foundation, The Merrill G. and Emita E. Hastings Foundation, The Horizon Foundation for New Jersey, Investors Foundation, Jewish Communal Fund, The Jewish Federation in the Heart of New Jersey, The Blanche and Irving Laurie Foundation, Manasquan Bank Charitable Foundation, OceanFirst Foundation, PNC Foundation, Springpoint Senior Living Foundation, The Shubert Foundation, The John Ben Snow Memorial Trust, The Stone Foundation of New Jersey, Stolfe Zeigler New Jersey Family Law Group, UMAMI Girl, Visiting Nurse Association of Central Jersey, Zager Fuchs, PC, Zynergy Retirement Planning, and many other generous foundations, corporations and individuals.
Two River Theater produces a theatrical season that includes American and world classics, new plays and musicals, programs for young people, and festivals of new work. Each year, they also offer 40+ events that reflect our diverse community of Red Bank, New Jersey. Two River produces work on two stages—the 350-seat Rechnitz Theater, and the flexible 110-seat Marion Huber Theater. The theater's recently opened Center for New Work, Education and Design is a three-story facility that includes two rehearsal studios, artist labs, classrooms, expanded shops and centrally located offices. Two River Theater has commissioned and premiered original projects including Be More Chill by Tony Award nominee Joe Iconis and Joe Tracz (the theater's first Broadway production) and Hurricane Diane by former Playwright-in-Residence Madeleine George (which won an Obie Award for its Off-Broadway run). In June 2019, Two River was nationally recognized by USA TODAY as one of "10 great places to see a play" across the U.S. Two River serves thousands of students and community members through arts and humanities programs at the theater, in schools and throughout its region. Two River Theater is led by Artistic Director Justin Waldman and Managing Director Nora DeVeau-Rosen.