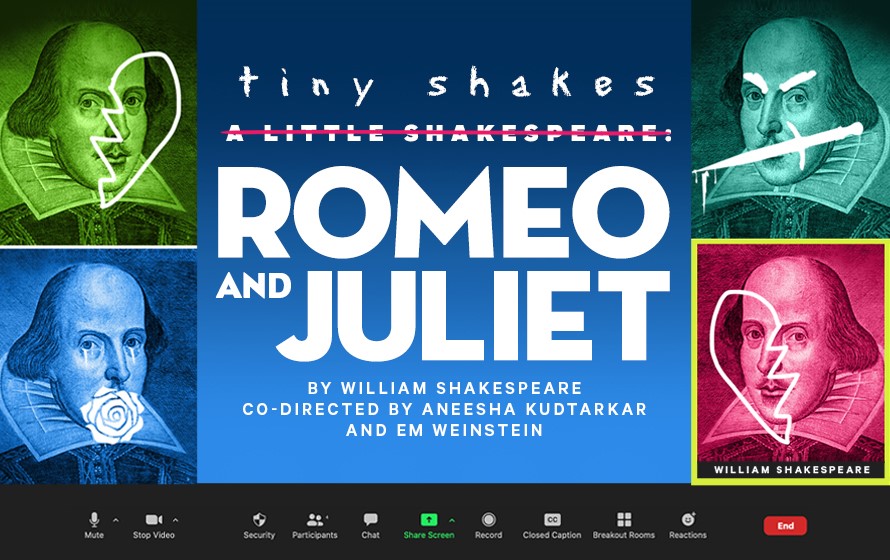 Tiny Shakes: Romeo and Juliet
Buy Tickets

Tiny Shakes: Romeo and Juliet
Tiny Shakes brings high school students together with a professional design team, with students performing and supporting the production behind the scenes to create a theatrical video collage. Stream these 24 videos that make up the performance all at once, or a few at a time! Available through June 30/2021.
Tiny Shakes: Romeo and Juliet
Two River's most popular education program breaks the mold to create something entirely new with Tiny Shakes: Romeo and Juliet, co-directed by Aneesha Kudtarkar and Em Weinstein (A Little Shakespeare: Twelfth Night).
For seven years, Two River Theater has produced A Little Shakespeare, a 75-minute cut of a Shakespeare play directed and designed by theater professionals, and performed and supported backstage by high school students. This season, the program used the limitations of 2021 as a unique opportunity for students to delve deeply into the play and give them the agency to tell the story in their own way, filming scenes from home. Over the course of the program, 21 students partnered with industry professionals to learn more about acting, visual design, music, fight choreography, and filmmaking. The result is an eclectic and energetic production of Romeo and Juliet featuring original music, TikTok dances, FaceTime calls, and more.
"This year the Tiny Shakes company embraced a new way of exploring Shakespeare," said Co-Director Aneesha Kudtarkar. "Despite the distance between them, they found imaginative ways to come together, collaborate, and think deeply about the themes in the play. It's been a joy to watch the student's creativity blossom over the course of this process, and we're thrilled to share this production of Romeo and Juliet with Two River audiences!"
WATCH: MAKING TINY SHAKES
Tiny Shakes: Romeo and Juliet - A Little Shakespeare Reimagined
Tiny Shakes Interview—WBGO
TINY SHAKES: ROMEO AND JULIET is sponsored by:

TINY SHAKES: ROMEO AND JULIET is supported by: Manasquan Bank Charitable Foundation