Two River Theater presents Three Sisters by Anton Chekhov, translated by Pulitzer Prize finalist Madeleine George, from January 15–February 6, 2022. Madeleine George (Two River Theater's playwright-in-residence) collaborates with director Sara Holdren (Two River's Twelfth Night) to create a new translation of Chekhov's classic play about big souls trapped in tiny boxes.
Set in the Russian countryside at the turn of the 20th century, sisters Olga, Masha, and Irina dream of futures in the wake of their father's death and a changing Russia.
"The design team and I started our dreaming together by gathering a huge variety of inspirational images, moments, references, songs — from the object theater of Geoff Sobelle to the artwork of Andrea Kowch and William Blake to the music of Queen and David Bowie," said director Sara Holdren in an email sent out to subscribers. "With some productions, this wide palette eventually narrows, but with Three Sisters, so many of these visceral influences are sticking around and finding a fully expressed home on stage. This play is life — then and now — in all its uncertainty and celebration and sadness and weird, uncontrollable, unpredictable glory."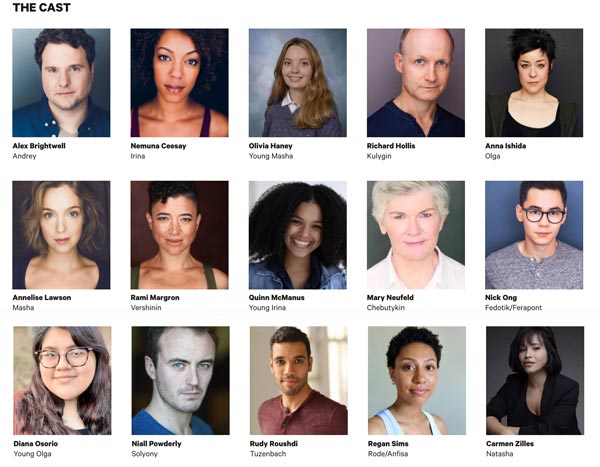 The cast includes Alex Brightwell (Andrey), Nemuna Ceesay (Irina), Olivia Haney (Young Masha), Richard Hollis (Kulygin), Anna Ishida (Olga), Annelise Lawson (Masha), Rami Margron (Vershinin), Quinn McManus (Young Irina), Mary Neufeld (Chebutykin), Nick Ong (Fedotik/Ferapont), Diana Osorio (Young Olga), Niall Powderly (Solyony), Rudy Roushdi (Tuzenbach), Regan Sims (Rode/Anfisa), and Carmen Zilles (Natasha).
Tickets range from $40 – $70 and are available for purchase online. Two River Theater is located at 21 Bridge Avenue in Red Bank, New Jersey. NOTE: All audience members over the age of 12 will be required to show proof of a full COVID-19 vaccination and wear masks while inside the theater building. Exceptions are only made for patrons eating and/or drinking in designated areas within one hour prior to showtime or for special events. Click here for complete COVID-19 information.
Sara Holdren is a director, teacher, and writer-about-theater, originally from the Blue Ridge foothills outside of Charlottesville, Virginia. Her bio states, "I love big plays — expansive, wild-hearted stories with a sense of humor, a regard for the vast unknown, and a visceral, intrinsic need to be expressed on a stage and nowhere else."
"Pop music has a huge place in this production (Talking Heads, Bowie, Queen) — in a way, I see these characters as all having an epic rockstar inside them, struggling to get out," added Holdren.
Madeleine George is Two River Theater's playwright-in-residence. Her play The Most Massive Woman Wins premiered as part of the Young Playwrights Festival at the Public Theater in 1994. Since then, her plays, including The (curious case of the) Watson Intelligence (Pulitzer Prize finalist), Seven Homeless Mammoths Wander New England (Susan Smith Blackburn finalist), Precious Little, and The Zero Hour (Jane Chambers Award, Lambda Literary Award finalist), have been produced and developed by Playwrights Horizons, 13P, Clubbed Thumb, Shotgun Players in Berkeley, City Theatre in Pittsburgh, Theater Wit in Chicago, and Perseverance Theater in Alaska, among other places. She has received a Whiting Award, the Princess Grace Playwriting Award, and two MacDowell Fellowships, and she holds commissions from the Sloan Foundation/Manhattan Theatre Club, the Big Ten Theatre Consortium, and the Children's Theatre Company in Minneapolis. Madeleine is a resident playwright at New Dramatists, a founding member of the Obie-Award-winning playwrights collective 13P.
Two River Theater produces a theatrical season that includes American and world classics, new plays and musicals, programs for young people, and festivals of new work. Each year, they also offer 40+ events that reflect our diverse community of Red Bank, New Jersey. Staying true to their founding principles, they bring a fresh eye to American and world classics, and they have commissioned and premiered original projects including Be More Chill by Tony Award nominee Joe Iconis and Joe Tracz (the theater's first Broadway production) and Hurricane Diane by Playwright-in-Residence Madeleine George (which won an Obie Award for its Off-Broadway run).
Two River serves thousands of students and community members through arts and humanities programs at the theater, in schools, and throughout our region. Each season, they host numerous artist residencies, workshops and readings, and present an annual Cabaret of New Songs for the Musical Theater in association with NYU's Graduate Musical Theatre Writing program.
Two River Theater is led by Artistic Director John Dias and Managing Director Michael Hurst, and was founded in 1994 by Joan and Robert Rechnitz. The theater is easily accessible by car, train, or bus, with great restaurants, shopping and hotels within walking distance.